yOni and 'ethical' erotica
As you may imagine, a site with a name like yOni.com receives a large number of hits from people looking for erotica. When I chose the name I knew that would happen but I hoped that in passing one or two people who were simply looking for erotic stimulation, might find some information that served them and enhanced their sexual awareness.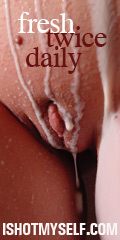 I have no issue with nudity, erotica and 'material designed to be sexually stimulating' (the dictionary definition of pornography) but I am strongly against exploitation and the porn industry is rife with opportunities (and actualities) for violence, abuse, degradation etc etc against women. I also object to the narrow and totally unrealistic range of images of women that are usually presented on porn sites. So, although, I would have loved to be able to direct those surfers who are looking for something more erotic to a suitable site I have never (until now) found a site offering porn that presents a genuine range of real women and where I can be confident that the models are willingly participating and receiving a fair wage … what I would call 'ethical porn' …..
This has all changed! Imagine my surprise and delight when I found exactly what I was looking for, 'ethical porn' being produced on my doorstep.
In their manifesto or vision statement Feck states …..
I came across the company when my girlfriend invited me to go with her to an interview for women of 'all shapes, sizes and ages for a creative photo shoot'. I was impressed as soon as we arrived by the understated elegance of the office and the courteous welcome we received from the receptionist.

One wall was covered with photos of women with notes such as "Thanks Feck– what a great experience" – it looked as if not only were the artists (Feck insists that the women are referred to not as models but artists) willing participants but that many of them found the experience of the shoot positive and empowering.
We were shown two of the Feck sites that we could contribute towards and given details of how the projects worked. The money offered for a contribution felt adequate so it seemed as if my criterion of 'fair trade' and non-exploitative were being met. But I decided not to take any chances. If I was going recommend yOni readers to a site I needed to be fully convinced that the process that the women went through was entirely acceptable to me. Nothing for it but to do it myself!
I signed up – proved that I was indeed over 18!- and was supplied with a camera and clear instructions on its use and the requirements of the shoot.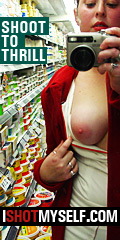 Then came my own personal challenge… getting over the the voices in my head that said ' Jeez – you can't do that you're way too old and way too fat!' But I am never one to baulk at a challenge so I processed my way through my conditioned misgivings and allowed the luscious wild woman to prevail.
The results astounded me! Not only was it empowering, I would go so far as to say that photographing myself for iShotMyself.com has freed me from a negative self image that I have carried for a long time. I was worried about being fat and actually the photos that I created showed me as even rounder than I had imagined. But it didn't matter - I could not deny the glorious gorgeousness of those abundant curves. And as a result I have noticed a subtle feeling as if I no longer need to diminish myself but can inhabit my body and being more fully, with pride and delight.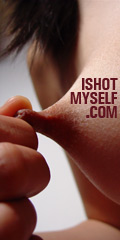 I realize that creating naked photos of yourself to put on the internet is not everybody's cup of tea – but if the idea in any way appeals to you and you would like to enjoy and appreciate your body more fully and get paid for the experience, then check it out further. Feck accepts contributions online. You will need to take and submit a couple of test shots so they can check that your camera is up to the job. More details here. Tell them I sent you!
And for those looking for something more erotic and explicit than yOni provides I can now recommend the following sites that offer 'ethical erotica', beautiful stills and video of adventurous, aware women who have been suitably renumerated, enjoyed and maybe even been empowered by the process.
Beautiful Agony has been described as 'erotica from the neck up' …


iShotMyself.com is a rich smoragboard of feminine beauty - all the images are self portraits by the contributing artists.
iFeelMyself.com could be considered a study of female self-pleasuring. The site certainly contains some of the most beautiful and genuine erotic material I have come across.
yOni now blogging at cliterallyspeaking.blogspot.com
Maiden | Mother | Crone | Lover | Healer | Bitch | Superwoman | Menstrual Lodge | Earth | Gallery | Circle | Gorgeous Gifts | Membership
yoni.com - a women's magazine dedicated to the re-emergence of feminine culture
vaudeville of the vulva - a unique comic cabaret with laura-doe and the vulva underground
'Do the Kegel' - a catchy song to help you do your kegel exercise
yOni.com - a women's magazine dedicated to the re-emergence of feminine culture